Social Media Campaign Socks it to Homelessness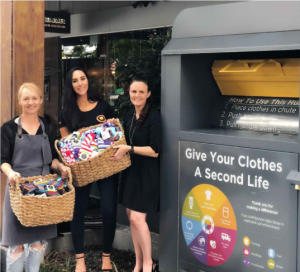 Last week, 1,100 pairs of socks were donated to Brisbane's homeless population, all thanks to a social media campaign.
A pair of socks may not seem like a luxury to most of us, but one of the most basic items of clothing can have a major impact on the health and hygiene of a homeless person.
Many charities report that socks are amongst the most requested items across homeless shelters during the winter months, but it is these very items that are in the shortest supply.
Understanding the desperate need for these items was the driving force behind the partnership and crucial social media campaign between SCRgroup, one of the country's largest and most innovative clothing and homeware recycling services, and Shopping Centres Australasia (SCA).
Encouraging the public to simply share a Facebook post generated the donation of 1,100 pairs of socks. SCRgroup then connected SCA with local Brisbane charity 3rd Space.
Based in Fortitude Valley, 3rd Space will now directly distribute the socks to homeless members of the Brisbane community.
Alexis Todorovski, Head of Marketing and Education at SCRgroup said, "We are delighted that we were able to collaborate with SCA to donate these critical clothing items to 3rd Space. The charity helps the city's homeless with meals and shower facilities as well as more complex programs of support, and we're so grateful for the generosity of our social media community who made this donation a reality."
Candace Kennedy, Retail Marketing Manager from CBRE, SCA's property managers, said, "Retail centres play a really important role within local communities. Essentially we aim to create a connection between retailers, customers and the local community – including those community members who may be in need of a helping hand. It's important that we work together to assist in any way we can."
For more information, please contact Xavier George at xavier@scrg.com.au. SCRgroup is a national recycling service with collection hubs at SCA sites around the country.