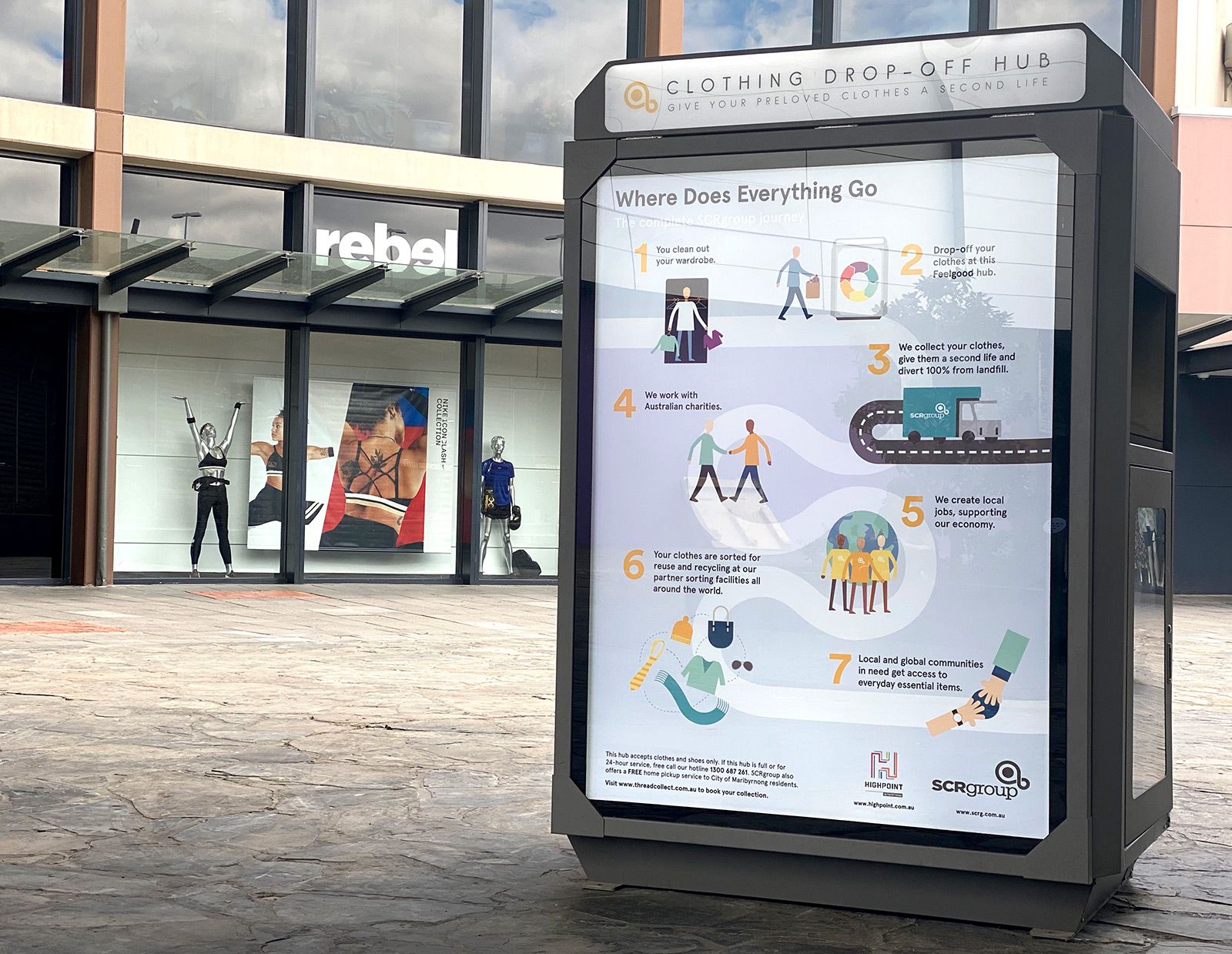 The Feelgood Hub was first launched in Melbourne during National Recycling Week (12-18 November 2018, appeared in Adelaide Fashion Week in 2019, and is currently placed at Harbourtown Shopping Centre (SA) and Highpoint Shopping Centre (VIC). We will be revealing new locations in 2020 via social media and our website.
Welcome to a world first, and the future of clothing reuse and recycling.
Alexis Todorovski, Head of Marketing and Business Development, SCRgroup
After much research into my industry, I quickly realised that clothing reuse and recycling isn't really fun or interesting for the general public. It's something we should do but aren't really motivated to do or even understand why it's so important. Australians also aren't as good at it as the rest of the world. We buy 27 kilograms of clothing on average every 12 months and throw out 23 of those 27 kilograms before the year's end. That's 85% of our wardrobes ending up in landfill, when it could be going to people who really need it in local and global communities or to recycling. So, the challenge presented itself to me. How do we get Australians reusing and recycling their clothes?
With the design of clothing drop-off hubs having remained unchanged for the past 50 years, I saw an opportunity to modernise this infrastructure to become more relevant to the needs of our clients and users. The new design represents a significant shift from the traditional metal clothing bins, with a focus on innovation in both aesthetics and technology, making it more attractive for our clients and users and better suited for both outdoor and indoor spaces such as shopping centres. Through our research, we learnt that the key motivator for users to give their unwanted clothes away was because they 'felt good' about what they were doing. Whether it was because they thought they were helping others in need, or they were diverting from landfill – the common pattern was 'feeling good'. As 100% of what SCRgroup collects is diverted from landfill and goes to people in need, our hub is just that. Hence, we thought it was fitting to call this design, the Feelgood Hub.
The Feelgood Hub comes in two models: a static lightbox screen option or a video screen option. These screens can be used for advertising, which also increases revenue potential for our clients and makes our hubs more engaging to consumers.