SCRgroup mascot delivers powerful message.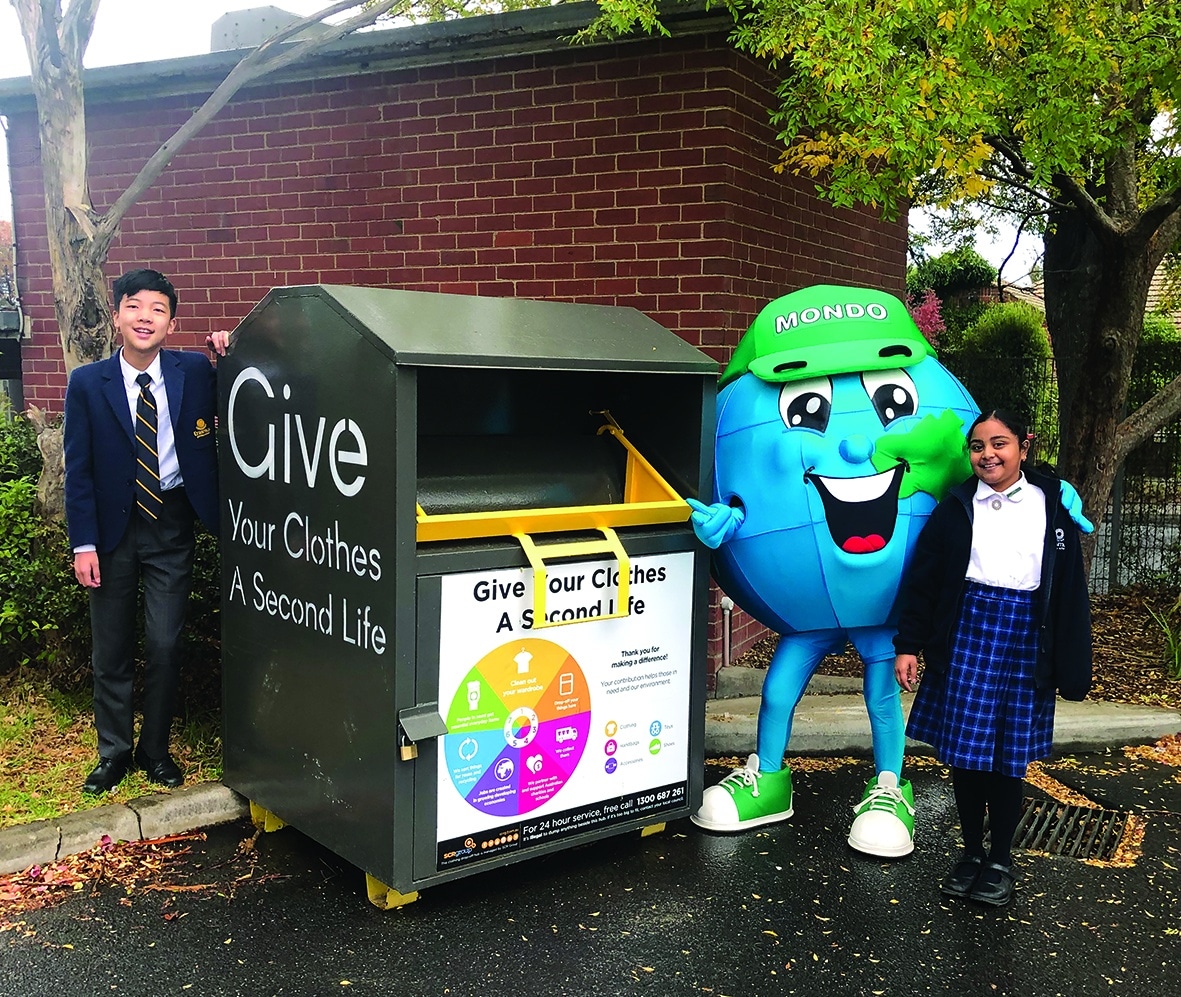 Mondo's story is a simple one, but it's having a big impact.
Since SCRgroup's school program mascot began his reuse and recycling journey in 2015, participating schools have helped divert more than 580,000 kilograms of unwanted clothing from landfill.
Last year, the top three schools participating in the Recycle with Mondo fundraising program helped to divert more than 45,000 kilograms of clothing.
Alexis Todorovski, Executive of SCRgroup, believes the program is successful because Mondo gives children a chance to use their imagination.
"Children respond very well, and they understand the story," she says. "It's a very important message as opposed to just telling them the facts."
Alexis says educating the future generations about recycling and making sustainable choices around textiles is important to drive up Australia's low textile recycling rate of just 12 per cent.
She says primary schools offer education around plastic, cardboard and paper recycling. But there is very little about textile recycling.
"When these students grow into an age where they are tasked to make important decisions, they aren't fully aware of the impact that clothing and textiles can have on the environment," she says.
"The school program is curriculum aligned and designed to help boost national textile recycling rates, by introducing the issue of textile recycling early in student learning."
Alexis points to overseas success to highlight how effective such programs can be.
"Germany runs programs at both a primary and secondary school level, which is one of the reasons why they have a textile recycling rate of 85 per cent," she says.
She says Australian students haven't had the same exposure to recycling and reuse, but SCRgroup is making progress.
The program started in Victoria and expanded nationally within two years There are now 140 schools involved.
"There are a lot more schools signing up as people are becoming more conscious of reuse and recycling," Alexis says. "Retailers are leading that space because they're implementing more sustainable processes such as swapping plastic bags for reusable bags.
"People are becoming more aware."
As part of the program, schools can select to run a clothing drive or host SCRgroup clothing drop-off hubs. The schools receive 10 cents for every kilogram collected and an additional $1000 as winners of the program to be used towards their sustainability projects.
Victoria's Waterfall Gully Pre School, Upwey South Pre School and Sandringham East Primary School were the top three fundraisers last year.
Vanessa Veal, Assistant, Upwey South Pre School, says the pre-school has been involved in the Recycle with Mondo program for more than two years.
She says Mondo's story, The Friends of Our World, is on display in the school's foyer and is often read by pupils.
"It's been a very successful program for us," she says. "A permanent donation bin is located in our car park outside the kindergarten, so it's also open to the broader community. There aren't many other options in this area, so it's been fantastic.
"We see kinder families using the bin regularly. We also sometimes have donations made to the kinder directly for our program and can use the bin to pass along clothing items that aren't suitable for us."
Alexis says SCRgroup is committed to diverting 100 per cent of the collections from landfill through re-homing unwanted clothing in local and international communities that need them the most. About 70 per cent of what is collected is currently reused.
Where clothing is unfit for wear, SCRgroup converts them into rags and biofuel. Alexis says the group is working to convert textile waste into products for resale and is collaborating with packaging and technology industries for more solutions.
The Recycle with Mondo program is available to schools in all Australian metropolitan cities. SCRgroup is offering a bonus $100 to schools that are new sign-ups to the program to kickstart their fundraising.