Alfonzo's eyes make an impact on illegal dumping.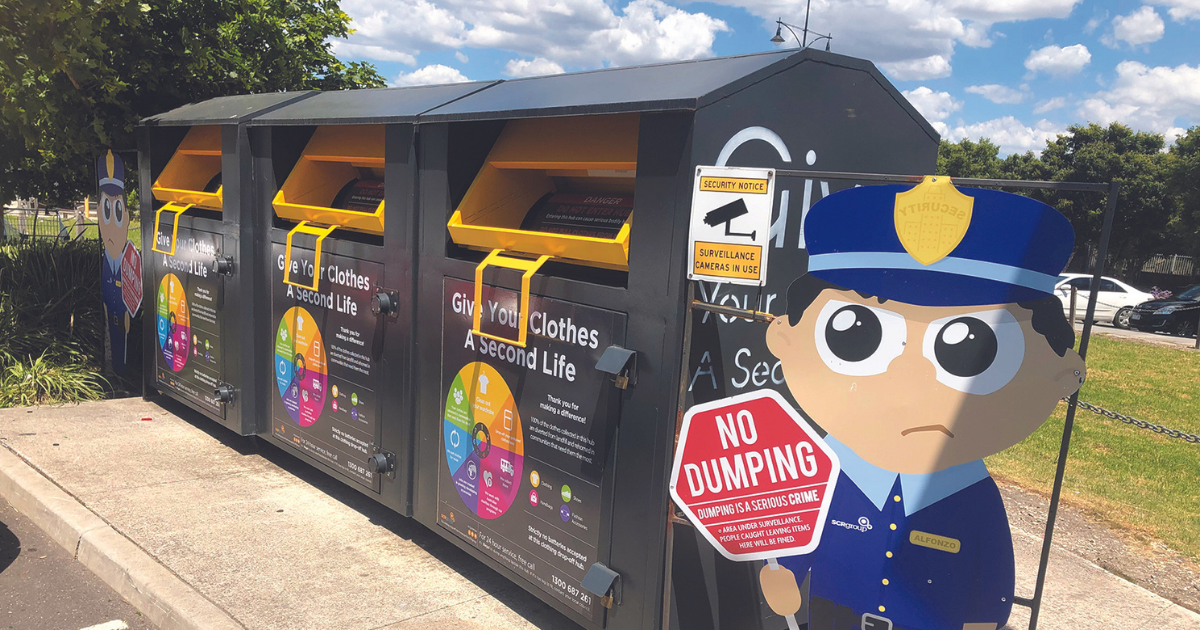 The introduction of the "watching eye effect" next to SecondLife bins across Geelong has led to a dramatic decrease in the cost of cleaning up illegal dumping.
The bins for unwanted clothing are managed locally by Australian Disability Enterprise (ADE)-listed charity Geelong Disabled People Industries and nationally by SCRgroup.
With more than 1,500 collection hubs around the country, SCRgroup spends almost $1 million every year cleaning up illegal dumping.
The expense takes away resources, time and money that could be used on more important and useful issues.
Earlier this year, SCRgroup introduced a life-sized character called Alfonzo the Security Guard, who has big eyes and the message "illegal dumping is a crime" next to its bins.
The relatively simple measure saw waste costs in Geelong cut in half – from $5,000 to $2,500 – within two weeks.
SCRgroup executive Alexis Todorovski said the thinking behind Alfonzo was based upon research from Oxford University that showed that images of large watching eyes can reduce the occurrence of crime and anti-social behaviour by giving would-be offenders the feeling that they are being watched.
"Illegal dumping has been an issue in our industry, not just in Australia but globally, for a very long time."
She said she observed the "watching eye effect" next to collection bins during a trip to Europe a couple of years ago, and brought the research back to Australia.
The first trial of Alfonzo proved to be successful in decreasing illegal dumping at SCRgroup's worst offending illegal dumping hotspots, with a four-week test in the City of Whittlesea resulting in a 75 per cent decrease.
"We felt that if we created a sign in the shape of a human, it would be a bit more realistic and hopefully more effective, and from the trials that we have run in quite a few councils now, it's proved quite effective.
"It is a very successful strategy, but it's definitely one part of a multi-pronged strategy to either significantly reduce or eliminate the problem of dumping altogether.
"We knew we onto something that would have some sort of impact, but the fact it had such an impact so quickly, from the moment we put up the signs is when we start to see a noticeable difference; I think that's the thing that's caught us off-guard the most.
"It just goes to show it's not necessarily the content of what you're writing on the sign."